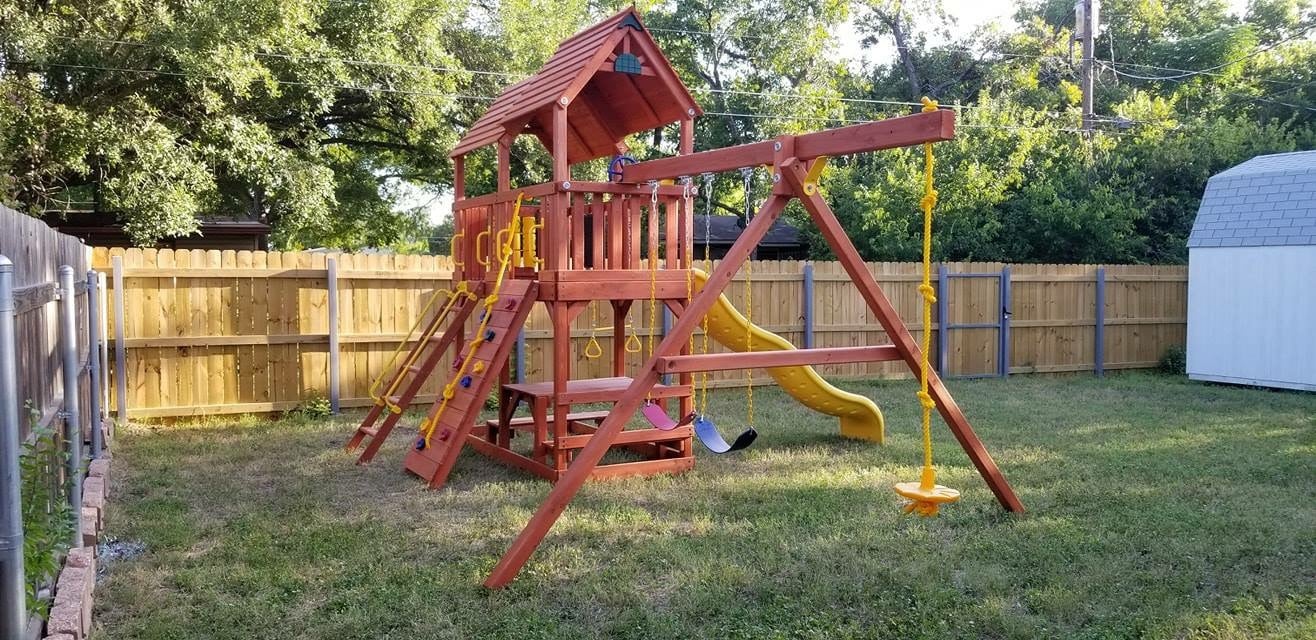 What child doesn't dream of having their very own swing set in the backyard? Having a swing set so close to home is an opportunity for the whole family to enjoy time outside. But unlike planting new flowers in the garden or adding a new throw pillow to your outdoor seating, a swing set is a bigger decision that deserves consideration. There are a number of benefits to owning your own backyard swing set and we've included a few here for you to consider.
Fun Any Time
One of the biggest benefits of having a backyard swing set is that fun is only a few steps out your back door! And with longer days and warm weather ahead, there's no better time to consider adding some adventure so close to home.
A backyard swing set is a great way to get kids outside, playing in the fresh air and sunshine. It is recommended that children ages six to seventeen do at least an hour of physical activity each day. This helps build strong muscles and bones and increases motor skills (especially in younger kids). And with backyard fun so easily accessible, there's no planning or driving required to play.
Imagination Overload
While a backyard swing set may be just a swing set to you, to kids it's a whole world of imaginative possibilities. A spaceship flying towards the moon? Buckle up astronaut! A daring swing over hot lava? Don't let your feet touch the ground!
Kids are full of inventive ideas for fun, and a swing set is another possibility for adventure. Even adults can join in on the fun. When's the last time your feet left the ground to fly high on a swing? A backyard play structure is a great way to bring the whole family together to play or to inspire your kids' imaginations to run wild on their own or with friends.
High Quality and Safe
When you're considering investing in a swing set for your backyard, safety is a top priority. Any kind of backyard structure that will face the wear and tear of the elements, time, and kids needs to stand up to the challenge. It's also important to consider the backyard space available and ensure that your swing set is a beautiful, sturdy addition to your backyard.
High quality materials and proper installation are key to building a swing set that will last long into the future. While it's easy to pick up a build-it-yourself play structure at a big box store, far too often this option leads to a wobbly construction, pieces that don't fit together, or a structure that breaks after only a few uses. For a solid structure that can handle years of fun safely, it's best to turn to the people who make building your best backyard their livelihood!
When you're ready to take the next step and enjoy all the benefits of a backyard swing set get in touch! Schedule a home evaluation to determine where a swing set would fit into your backyard or visit one of our showrooms to see a swing set in action.