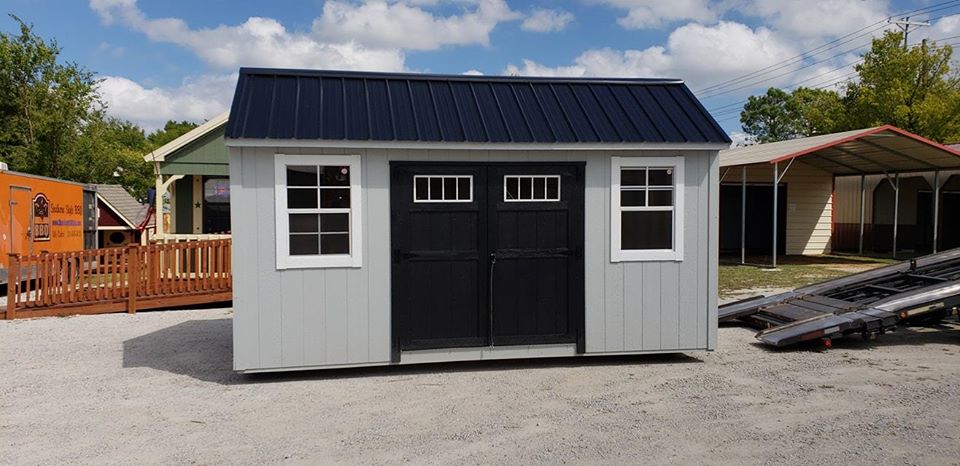 A backyard shed provides a number of benefits to your home and outdoor space. Backyard sheds come in a variety of different sizes, layouts, and finishes, including sheds that meet most HOA guidelines. Consider a shed for your backyard and enjoy the potential for extra storage, living space, and security.
Clear Up Space in Your Garage or Basement
For many of us, storage for outdoor equipment is hard to find. You may have yard work tools, bikes, hoses, lawn mowers, kids toys, cleaning products, and any number of tools and equipment taking up valuable space in your garage or tucked behind the house. All that clutter can make it hard to use the space around your home and can leave your tools to face the elements outdoors.
A backyard storage shed can create a designated space for all your tools and toys. A shed is also an ideal place to store seasonal decorations. And when you start with an empty shed, you can design and plan your storage solutions to avoid the dreaded piles of stuff that plague so many garages, basements, and closets. Having all your tools and yard equipment within easy reach makes yard work easier, as well.
Studio or Home Office Possibilities
A backyard shed isn't only an opportunity for more storage, it can also be usable living and working space. A shed makes a great home studio, office, or workspace. Particularly as a shed is separate from the rest of your house, it can be a space for using loud power tools or paints with strong odors without disturbing your family. This is a great option if you have young kids in your house who tend to get underfoot as soon as the power tools make an appearance.
Many backyard shed options include windows, which can make a shed feel more like an additional room for living space outside your home. Backyard sheds also come in a variety of dimensions, so you can fit the shed to your space and needs, and many sheds are customizable, so you can match the paint and siding to your house.
Add Value and Security
Having a shed in your backyard can increase the value of your property if you sell it down the road. Prospective buyers are always looking for extra storage space and having a well-kept backyard storage shed come with the property would be a big plus. Not only can a backyard shed provide lots of use while you're living in your home, it can help you sell it.
Along with adding value, a backyard shed adds an extra level of security and protection for all your yard tools and equipment. Having a designated, lockable space for your lawn mower, shovels, rakes, and other yard work supplies keeps them from getting rusted, stolen, or worn down from the strong rays of the sun.
At Johnny's Backyard, we have a number of customizable and ready for delivery sheds. Get in touch to schedule a home evaluation and get started with a shed in your own backyard.