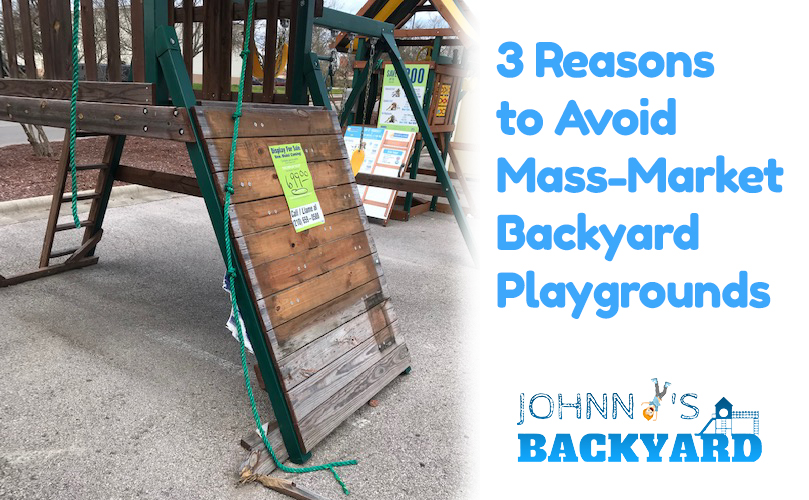 When you're considering a playground for your backyard, there are many options. Deciding between them can be challenging when you're juggling price, quality, and customer service. As you consider all the backyard playgrounds out there, you'll likely come across mass-market options with appealing price tags. While we know that playgrounds can be expensive, choosing a cheaper mass-market option might come back to bite you. A backyard playground is an investment that should last for years into the future, an expectation mass-market playgrounds have a hard time meeting. Here are three reasons we suggest avoiding mass-market backyard playgrounds.
1. Mass-Market Backyard Playgrounds & Poor Quality Materials
Safety is one of the first considerations that every parent or grandparent makes when they're thinking about getting a playground for their backyard. A backyard playground makes quality time together, physical activity, and easy fun a lot closer to home, but it's important to ensure that your backyard play structure will be as sturdy and long-lasting as the playground in your local park.
Many mass-market backyard playgrounds are made with cheap lumber and materials in order to keep costs low, but low-quality materials are likely to wear down quickly and the lumber is often made from compressed or laminated materials. A backyard playground is an investment that should last for years and provide a safe, fun outlet for kids to play throughout their childhood. If your mass-market playground starts falling apart after the first summer you put it to use, the cheaper price tag likely won't be worth the purchase.
2. Difficulty Installing a Mass-Market Playground
Depending on where you get a mass-market playground, installation can be a challenge you have to take on yourself, instead of having a professional ensure your play structure is properly installed. Not only is putting your own playground together a frustrating challenge, it also can impact the safety of your playground if it isn't put together properly. Proper installation from a playground professional can give you peace of mind that your backyard playground is safe, sturdy, and has the proper space around the structure for kids to play.
3. Playground Maintenance
With a mass-market backyard playground, if you have any problems or need repairs down the road oftentimes you'll have to do it yourself or hire your own handyman to fix your play structure. Additionally, many mass-market playgrounds come with specific parts and hardware that can be hard to replace only a single piece of. Given that many mass-market playgrounds are made with cheap materials that are prone to wearing down quickly, this is a big reason to avoid a playground from your local big-box store.
A backyard playground can provide easy, safe fun for years to come, but despite the cheap price tag, mass-market playgrounds are best to avoid. A safe, high-quality playground is worth the investment and can add value to your home. We provide high-quality swing sets and playgrounds made with chemically-free, premium lumber that is naturally resistant to insects and decay. Our playground specialists can provide a home evaluation and install a playground even on sloped or uneven ground. Check out our high-quality playground options by clicking the link below!